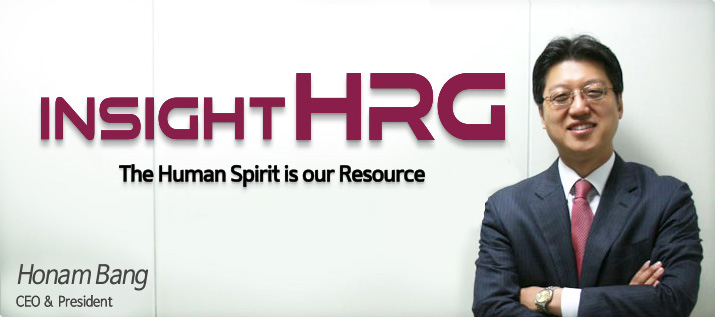 INSIGHT HRG strives to provide the highest level of human resource services in the areas of search and career consulting. Our company slogan, "The Human Spirit is Our Resource", is our guiding principle in everything we do. People are what make companies great. Our world-class services reflect this.
I am confident that human capital is the most important value in corporate management and it is the top priority in all aspects of the organization. I also believe that the company will be successful when they recognize the value of the people in the organization.
INSIGHT HRG will be your trusted partner in supporting your successful business. We look forward to improving value to both clients and candidates.
We hope that we can be your solution to your human resource needs.

Korea University, MBA
The University of Iowa, 1 year completion of Ph. D program in Mechanical Engineering
The University of Iowa, MS in Mechanical Engineering
Hanyang University, BS in Mechanical Engineering

CEO & President, INSIGHT HRG
CEO & President, Nemo Partners HRG
Management Consultant, Accenture
Chief in Strategy/HR/Finance department, eNtob
Chief in Strategy/HR department, iRevo
R&D Engineer, GM Daewoo Motor Co. R&D Center

"Innovation in Procurement" - Maeil Economic newspaper/Accenture