Total commitment to client needs by the consultants with functional and industrial expertise
Recommend the optimum candidates through understanding of our client's business environment and needs
Close clients-consultants communication with collaborative and interactive teamwork
Value the research driven process by the professional search-consultants
Stay the course until the right candidate is placed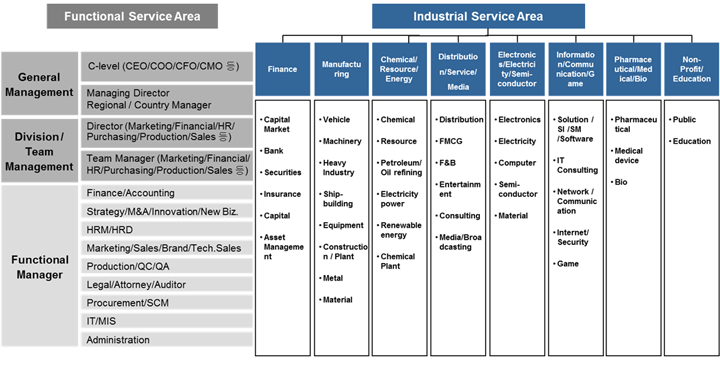 Reference Check Service: We offer the most objective and optimized service through the technique of 'Structured Reference Check' by setting up the criteria and the method in advance.
Academic / Professional Career Check Service: We offer the verification service of domestic and foreign academic career together with professional career.
Career Consulting: We offer the career path development consulting service to MBA (SNU, Korea University, KAIST) and undergraduate students.
Payroll Research: We offer not only the compensation package data but also the specific plan of recruiting and maintaining the personal through the practical data analysis and actual interview with the concerned party.

Expatriate Recruitment Outsourcing: We offer the expatriate recruitment and foreign native recruitment service through the network established in Asia region.
HR Outsourcing: We offer the manpower outsourcing service in F&B, FM, S&P and administration with the stable and continuous quality through the alliance with the renowned consulting firms in Korea.
Assessment: We offer the assessment service in job competency, emotional competency, corporate culture, and job efficiency by establishing the tool and model fit into the specific industry with the renowned consulting firms in Korea.
Internship Program: We offer the internship program service in recruiting, operation, evaluation and assignment in order to secure the potential major talent in advance.
Management Counseling / Consulting: We offer the Strategic consulting, IT consulting, HR consulting through the alliance with the renowned consulting firms in Korea.

We have established the global network in Asia and will expand to America and Europe in order to provide the various services in every region.